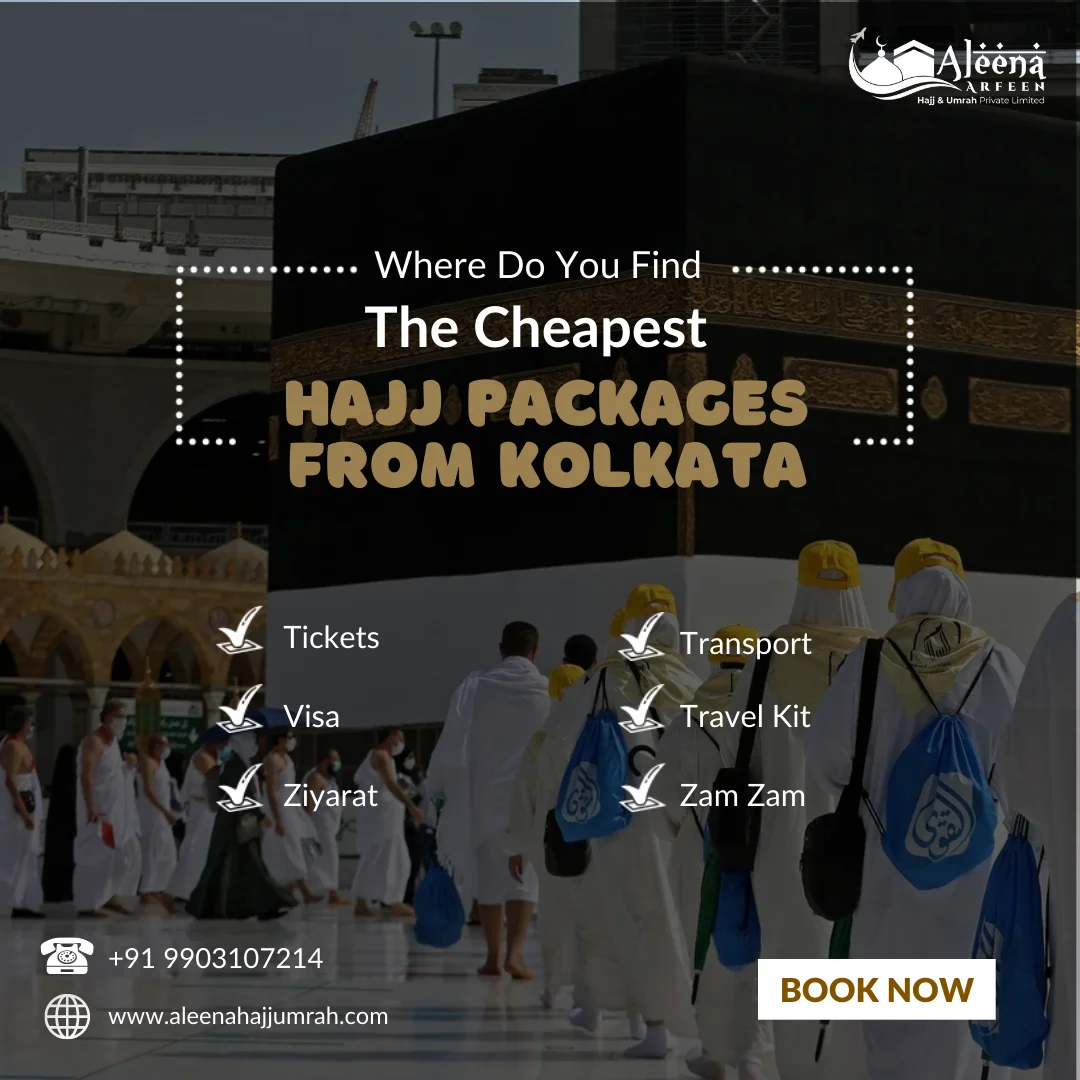 Where Do You Find the Cheapest Hajj Packages from Kolkata?
April 24, 2023
Get the Affordable Hajj Packages from Kolkata now

Ever wondered how you can be able to book the cheapest Hajj packages that can be able to suit your own budget and also bring you closer to the Almighty Allah (SWT)? With the help of the best and the reputed Umrah and Hajj agency named Aleena Arfeen Hajj and Umrah Private Limited, you can now be able to arrive to the Holy Land of Allah (SWT) and also gain the blessings and the mercy of the Supreme Creator.


Check out the ways in which you can be able to find the cheapest Hajj packages that can make your journey to the Holy Land successful soon:


Consult with Travel Agencies: The first step to finding affordable Hajj packages from Kolkata is to consult with travel agencies. There are many travel agencies in Kolkata that specialize in Hajj and Umrah packages. You can visit their offices or contact them online and ask for their Hajj packages. They can also guide you in choosing the best package that suits your budget and requirements.


Research Online: The internet is a great tool for finding information about anything, and Hajj packages are no exception. You can search online for travel agencies that offer cheapest Hajj packages from Kolkata. You can compare the prices and services offered by different agencies and choose the one that fits your budget.


Ask for Recommendations: You can ask your friends, family members, or acquaintances who have already performed Hajj for recommendations. They can guide you in finding the best travel agency that offers affordable Hajj packages from Kolkata.


Book Early: Booking your Hajj package early can save you a lot of money. Many travel agencies offer early bird discounts to those who book their packages in advance. So, make sure to book your Hajj package at least six months before the actual Hajj season.


Compare Prices: Before finalizing your Hajj package, make sure to compare the prices offered by different travel agencies. You can ask for quotations from different agencies and compare them to find the cheapest package.


Avoid Peak Season: The prices of Hajj packages are usually higher during peak season. Therefore, if you want to save money, try to avoid performing the hajj during peak season.


Reach out to us soon to grab the best deals!
The best tour and travel agency in Kolkata, Aleena Arfeen Hajj and Umrah Pvt. Ltd. offers exceptional Hajj and Umrah packages at highly-affordable rates that allow pilgrims to perform their pilgrimage with peace of mind and comfort. Our special Hajj and Umrah package from Kolkata starts at RS 6,50,000/- and RS 1,05,000/- which are the best affordable packages currently available in the city.


Conclusion
Finding affordable Hajj packages from Kolkata requires some effort and research. It is important to choose a reliable and trustworthy travel agency like Aleena Arfeen Hajj and Umrah Pvt. Ltd. that can provide you with the best services during your journey. For more discount offers and cheap deals contact us at +1-800-889-5657.
To read more blogs, make sure to visit our blog space.