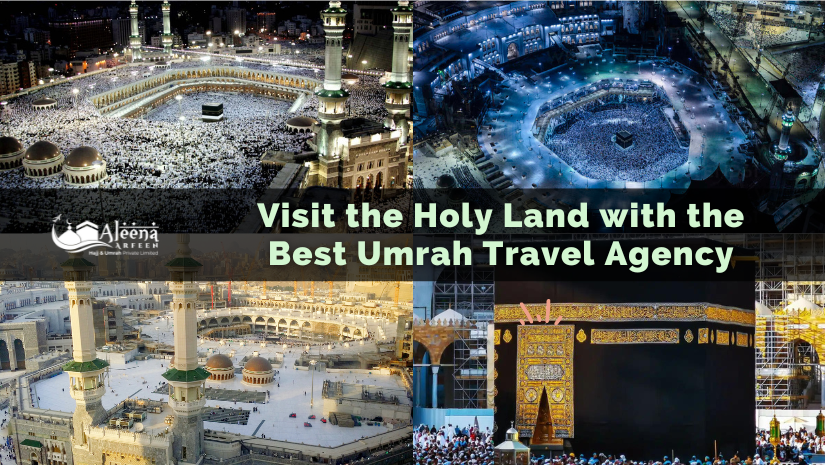 Visit the Holy Land with the Best Umrah Travel Agency
April 10, 2023
Why do you need to choose Us?
We do give you the sneak peak of the reasons for which you do need to reach out to us and book the cheapest Umrah packages in order to be able to get the mercy and the blessings of the Almighty Allah (SWT)-
Comprehensive Services: Look for an agency like Aleena Arfeen Hajj and Umrah Pvt. Ltd. that offers well-curated Umrah packages that include visa processing, airline bookings, hotel accommodations, ground transportation and guidance from experienced tour operators.


Reputation: We have reliable track record of organizing successful Umrah trips. We provide top-quality services as per industry standards.


Customer Service: We provide exceptional customer support services that will assist you to avoid any issue during your journey.


Affordability and Flexibility: Aleena Arfeen Hajj and Umrah Pvt. Ltd. which is the best Umrah travel agency offer different types of package options to suit your budget and preferences.


Expertise and Experience: Consider the agency's expertise and experience in organizing Umrah pilgrimages, including the quality of their tour operators and guides.
What can we offer you in 2023?
Here are the services that will make your Umrah pilgrimage luxurious and comfortable,


Complete Umrah Package with Flights


Indian Food (Breakfast, Lunch and Dinner)


Hotel Stay for 7 days in Mecca and 7 days in Medina (14 days)


Local Ziyarat (1 day in Mecca and 1 day in Medina)


Jummah Namaz (1 day in Mecca and 1 day in Medina)


Umrah Visa with Valid Insurance


Free Transportation in Group A/C Buses


Umrah Tour Guide


Welcome Kit for Every Pilgrim


Zam Zam if available (As Per Saudi Govt. Policy)


Unlimited Laundry
Conclusion
Choosing the best and the reputed Umrah travel agency has been the dire need of the present day for most of the pilgrims in order to conduct the best journey of their life within their budget. Also, almost every pilgrim dreams to gain the mercy and blessings of the Almighty Allah (SWT), so if you do have any plans of Umrah, then make sure to reach out to us here to get the cheapest deals now- +1-800-889-5657.