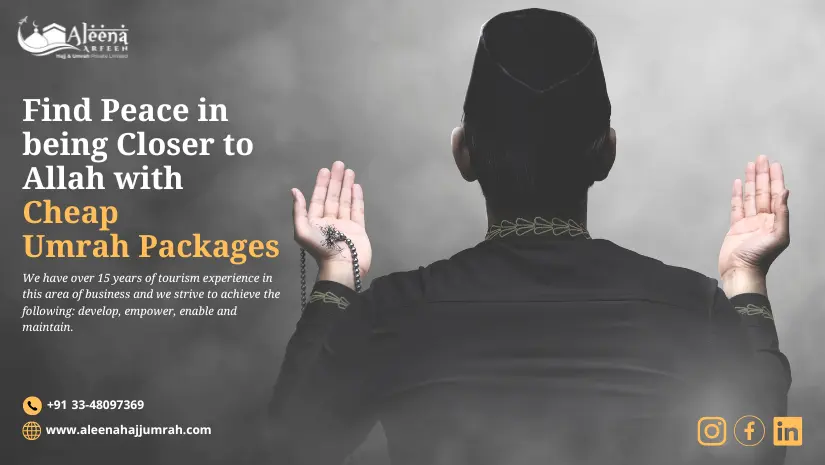 Find Peace in being Closer to Allah with Cheap Umrah Packages
May 17, 2023
"And whoever performs Hajj/Umrah to the House - then there is no blame upon him for walking between them." (2:158)
Umrah is also considered to be the only dream, after Hajj, as it allows the pilgrims to gain closeness towards Allah (SWT) and also seek blessings, which might also help them to lead a normal and happy life.
Factors to Look After to Enjoy an Affordable Pilgrimage
Here are some of the benefits of affordable packages for Umrah:
Cost-effective: Cheap Umrah packages are designed to make the journey to Mecca more affordable for Muslims. These packages offer a range of travel options, including airfare, hotel accommodations, ground transportation, and meals, at a significantly lower cost than booking these arrangements separately. This can help make the journey to Mecca more accessible and affordable for Muslims, particularly those with limited financial resources.


Convenience: Umrah packages provide a convenient way to plan and book your journey to Mecca. The travel agency takes care of all the arrangements, from booking your flights and accommodations to providing guidance and assistance throughout your journey. This can save you time and reduce the stress of planning your trip, allowing you to focus on your spiritual journey.


Quality accommodations: Although these packages are designed to be cost-effective, they do not compromise on quality accommodations. You can expect to stay in comfortable and clean hotels close to the holy sites, with all the necessary amenities to make your stay comfortable and relaxing.


Guidance: Many Umrah packages include guided tours of the holy sites in Mecca and Medina, providing spiritual guidance and context for your journey. This can help you deepen your connection with Allah (SWT) and gain a better understanding of the significance of the holy sites.


Local knowledge: Travel agencies like Aleena Arfeen Hajj and Umrah Private Limited that specialize in Umrah packages have extensive local knowledge and connections in Mecca and Medina. This allows them to provide personalized services and recommendations to their clients, including advice on the best times to visit the holy sites and the most convenient transportation options.


Peace of mind: By booking cheap packages, you can have peace of mind knowing that all your travel arrangements are taken care of. You can focus on your spiritual journey without worrying about logistics or unexpected expenses.
Your Reliable Umrah Partner
Among the crowd of numerous travel agencies in India, there are very few whom you can trust, and Aleena Arfeen Hajj and Umrah Private Limited are two of them. They offer unmatched Umrah services that have the immense quality to make your Umrah pilgrimage the most beautiful memory of your life. The travel company provides all-inclusive Umrah packages at the cheapest available rates, which start at RS 1,05,000/- per pilgrim.
Conclusion
Umrah packages offer a cost-effective and convenient way to plan your journey to the holy city of Mecca. By seeking out a reputable travel agency and carefully selecting the package that suits your needs, you can find peace in being closer to Allah (SWT). To get discount offers and cheap deals on Umrah packages, contact +91 33-48097369.
To read more interesting blogs, make sure to visit our blog space.