Be prepared for your best Hajj Tour
It has been the Hajj or the mandate pillar of Islam has been the dreams of millions across the globe since the beginning of time. It is through the conduct of the Hajj pilgrimage that you can be fortunate enough of attaining the blessings of the Allah (SWT) by refreshing your faith in Islam. With the conduct of Hajj, it is true that you can be able to deepen your relationship with the Almighty Allah (SWT).
Planning to perform Hajj for Allah (SWT)? Looking for cheap Hajj packages 2022? Reach out to the cheap Hajj Tour operator to be able to fulfill your dream of visiting the Safa and Marwa Mountain right now.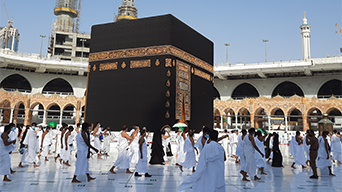 Details of Hajj package
Coming soon!
Address
89A, Shakespeare Sarani, Near Bhawan Chowdhury Masjid (Park Circus 7 point) Kolkata - 700017
---
Help center
For any kind of assistance, please do feel free to reach out to us now to be able to reignite your passion of flying to your dreamland.