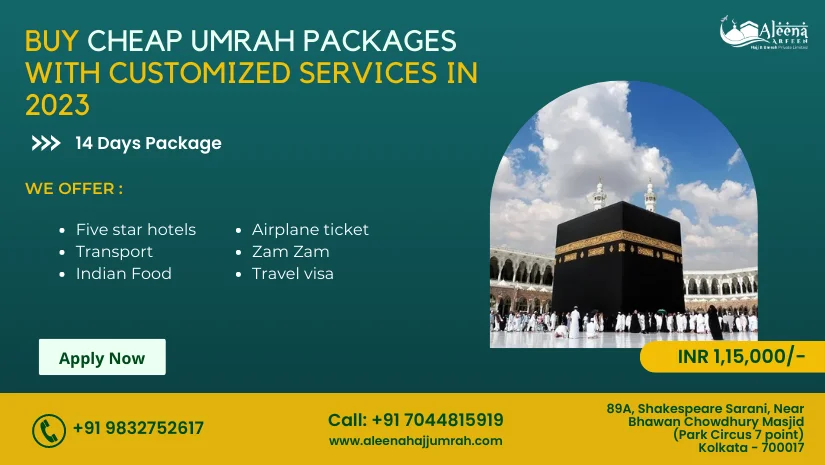 Buy Cheap Umrah Packages with Customized Services in 2023
April 3, 2023
What Do You Know About Umrah Packages?
Umrah packages typically include basic services such as transportation, accommodation and visa processing. However, the exact details of what is included may vary depending on the package and the travel company. Some packages may offer additional
Umrah services
such as guided tours or meals, while others may offer more budget-friendly options such as shared accommodation or transportation.
When choosing a cheap Umrah package, it is important to consider a few factors. First, make sure that the package includes all necessary services, such as transportation to and from the airport, accommodation near the Masjid Al-Haram, and visa processing. Second, consider the reputation and reliability of the travel company offering the package. Look for reviews and feedback from other travelers who have used their services in the past. Finally, consider the timing of your trip, as prices for
cheap Umrah packages
can vary depending on the season and demand.
Things You Need To Consider
It is also important to remember that even though a package may be marketed as "cheap," the cost of Umrah can still add up quickly. Additional expenses to consider include airfare, meals, and other incidental costs. It is essential to have a realistic budget and to plan accordingly to ensure that your Umrah journey is a success. However, there are companies exists such as Aleena Arfeen Hajj and Umrah Pvt. Ltd that offers exceptional Umrah packages at cheap rates.
Conclusion
Umrah packages can be an excellent option for the people who want spiritual journey without breaking the bank. However, it is essential to choose a reliable travel company like us who have a realistic budget in mind. We offer incredible Umrah packages starting from RS 1,15,000/- Per Person.


For more call us at +18008895657 to fly to the Holy Land of Allah (SWT)